Create a new Order and name it like "YourWebsite – Google AdSense". Now click on Company > Add a new company. As Name use 'Google AdSense' and as Type select 'Ad Network' and click save.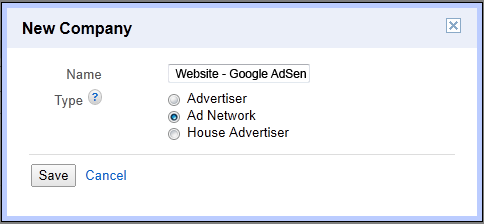 Now create a Line Item for each Ad Unit you have on your website. Here it is important to create a separate Line Item for each Ad Unit which serves an AdSense Ad Unit that has its own unique channel. Check your AdSense Ad Units to see which Line Items you need to create.
For more information on AdSense Channels read this: Different strategies to use AdSense Channels
Name the Line Item to describe the placement on your website and define the Inventory Size for this Line Item like we did in the example.
Now to the settings.
For Type select 'Network', for Start Time select 'immediately' and for End Time select 'Unlimited'.
For Rotate creatives select 'Evenly' and leave the rest of the settings as they are.

Now select the Ad Unit you want this Line Item to be served on and click save.
Repeat this step for each of your AdSense Ad Units that you track with a separate channel so that you have a separate Line Item for each AdSense Ad Unit.
Now select the first Line Item you just created, click on Add Creatives and select 'Third party »'
Switch to your AdSense Account and get the Code for the AdSense Ad Unit that you want to display in this Line Item and past the code into the Code snippet box. DFP will recognize AdSense code.
Give it a descriptive Name and click Save.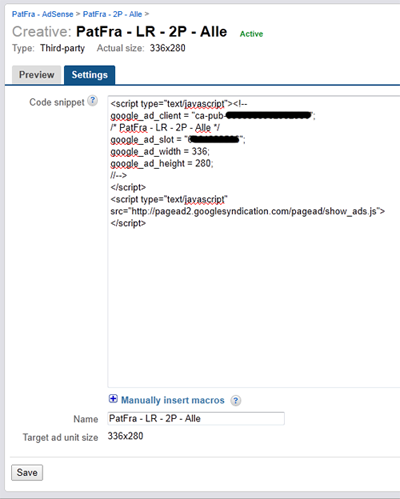 Now DFP is telling you that this Order has not yet been approved which means
it will not be delivered until you do. Approve it by clicking on the 'Approve" Button.

Repeat the above step of adding your AdSense Code to each Line Item you just created until all Line Items have their AdSense Code as Creative assigned to them.
After you added a new Creative to a Line Item the status of the creative says 'Ready'.
It can take up to 60 Minutes before a creative starts to be delivered. Once it starts the Status will change to 'Delivering'.
Now your AdSense Ads are delivered on your websites via DFP Small Business.
Be careful with Using DFP Small Business for opening AdSense in a new window.