Tag Archives:
rapidresponsebot
An autoresponder sends emails on your behalf and in your name.
In this article I present you the differences between one-mail autoresponders and sequential autoresponders and present you similarities and differences between AWeber, GetResponse and RapidResponseBot. You will find detailed reviews, overview, comparison and recommendation.
What is an Autoresponder?
What is an Sequential Autoresponder?
Idea and Functionality
Couldn't one do this oneself?
Service Providers of Sequential Autoresponders
Overview and Rating of AWeber, GetResponse and RapidResponseBot
Which Autoresponder is right for me?
Conclusion
What is an Autoresponder?
In the original meaning autoresponders respond independently and automatically on requests.
This started with notes, that a email could not be delievered and is gladly and often used to send away messages.
But this away-message is just a special case of an automated response: "Respond on each incomig message with 'I am on vacation.'"
Autoresponder, as they come with most hosting plansm can also be used to deliver any response. For this, one just creates a separate mail address (e.g. pricing@domain.xx), and lets an autoresponder reply with the desired information.
Not bad, but very limited.
But autoresponders have evolved.
What is a Sequential Autoresponder?
On autoresponder specialized services offer powerful tools.
(In Deutsch)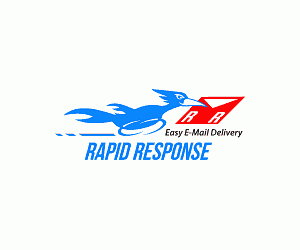 RapidResponseBot provides low cost sequential autoresponders. It follows the motto "by marketers for marketers" and is less designed and polished. It is sober and is limited to the essentials.
The functions of Rapid Response Bot help you maintaining your lists. Messages can easily be created and placed in a sequence.
The personalization options are limited but sufficient.
RapidResponseBot is limited to the most important statistics. It allows, however, that you monitor any links with so-called trackers. The trackers are not bound to the mails. The collected statistics can be obtained automatically via e-mail, which is really useful.
The documentation of RapidResponseBot is not particularly polished to a shine, but shows briefly and concisely how to set up the tool and work with it.
Rapid Response Bot is rather aimed at technically-oriented users. Usage is quite easy, but focuses less on point-and-click.
Nevertheless RapidResponseBot offers a lot, which is useful.
You can have your first own autoresponder in just a few minutes from now. Then, thanks to the possibility to copy entire sequences, even faster.
Summary
RapidResponseBot is a great service that satisfies all autoresponder needs.
The possibilities and features do not reach the level of the competition, but support you effectively in the list creation and list management.
Some features are unique in the provided form.
The support material is not as extensive as that at the competition, but enough to be able to start quickly. In particular, there are step by step instructions for creating lists. Even beginners can get started right away.
The possibilities of the creation of mail at Rapid Response Bot can not compete with GetResponse, but are sufficient for most. The scheduling of circulars is useful. That trackers do not depend on mails, is a valuable feature that can be used effectively by the automatically sent statistics.
The price is extremely cheap. It is independent of the number of subscribers, making the costs, RapidResponseBot causes, predictable over time. The optional available one-time payment can pay off quickly, if the service is used for a longer time (which is likely).
With its 30 day right of withdrawal you can try RapidResponseBot now risk free.
More InformationTest / Buy
Mail, autoresponder and campaigns
Mail
The possibilities of RapidResponseBot are absolutely sufficient.
The are no limitations for the creation of email. You can send HTML-mails and text-messages.
With tags (also called variables or fields), the message can be personalized and therefore include – for example – details on the receiver. First name and email address of the reader are most frequently used and mentioned in the subject or in the message. This gives your mail something personal.
In addition to the preset up to 10 custom fields are possible.
Example: